The Hotel
Rødvig Inn & Seaside Hotel – The Skaaning family
Rødvig Inn & Seaside Hotel is a real family business.  Jonas and Kathrine are the second generation of the Skaaning family at the place.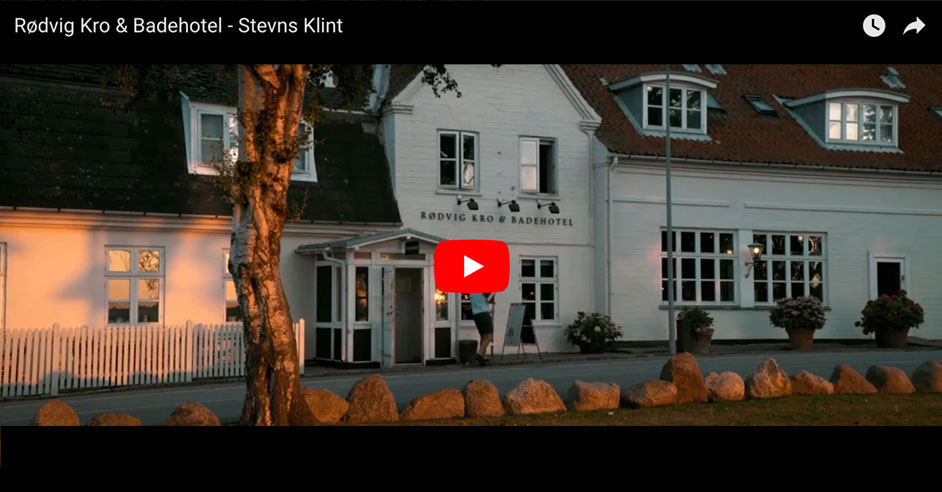 Jonas parents Lene and Kresten Skaaning bought the hotel in 1990. During the total renovation in the beginning of the 1990's, many different family members helped out where they could. Today, this is evident in the decoration of the Inn, which both Jonas' aunts and his sister have attributed to. Furniture, service and pictures on the wall are all made by family members.
The attributes of the family and Lene and Kresten's ability to turn everything into gold has made the Inn what it is today. It is indeed a special place with a cosy and personal atmosphere. A special place where we, their son and daughter in law, have loved to come. As much as Jonas in 2005 started working at the Inn and as much as we in the fall 2007 took over from Lene and Kresten. Today, we run the Inn, still with a little help from Kresten.
In the late summer of 2013 we opened another small hotel in Rødvig only 400 meters from Rødvig Inn & Seaside Hotel. In a former pension from the 1940's we opened Stevns Klint Beach House. A hotel with a unique location to the fields, beach, Stevns Klint and the East Sea. It has 10 beautiful decorated double rooms and several nice living rooms, terrasses and a big garden. See more here.
At Kridthuset, opened in the late summer of 2020, we have 12 nicely decorated rooms. Kridthuset is the old town hall of Rødvig. We have refurbished the house with respect for the history of the house. Thus we have kept the decor of the old conference room as it was decorated in the seventies but with alle the facilities needed in a mordern conference room.
We live in Rødvig with our three daughters. Jonas is originally educated from the Hotel and Restaurant School in Copenhagen and Kathrine from the University of Copenhagen.
We run the Inn in the same spirit as Lene and Kresten with focus on the personal and good service in cosy and relaxing surroundings.
Together with our good employees in the kitchen and a handfull of good waitresses and dishwashers, we will do everything we can to give our guests a great experience, when they visit Rødvig Inn & Seaside Hotel.
We are looking foreward to seeing you here at our Inn.
Kathrine Hendriksen and Jonas Skaaning